When I began studying Theology in the 1970s Werner Kümmel's encyclopedic "Introduction to the New Testament" was a formidable tome to master when cutting one's teeth in the standard first essay on the Synoptic Problem – the relationships, relative dating, and authorship of Matthew, Mark and Luke.
I little realised that Kümmel was a Jewish disciple of Yeshua, or at least, according to the Nurermberg Laws passed by the National Socialists, 3/8 Jewish. Whilst  he came from a German family famous for its learning in the arts and sciences, and his father before him was a pioneering  researcher in medicine, Kümmel's paternal grandfather, historian Heinrich Ulmann, was fully Jewish, and his wife reckoned as "half-Jewish". His mother was born before his grandparents 'converted' and was not baptised till later.
According to the National Socialists, his mother was 75% "non-Aryan" and he was three-eighth's Jewish. He was therefore not a "half-Jew", but stood according to the division of the Nuremberg breed laws from September 1935 somewhere between "first-degree hybrid" and the "second-degree hybrid" – mixed race (mischling), permitted to have German citizenship – but under suspicion and most likely unable to teach in a university.
All this was unknown and unimportant  to Kümmel until the Nuremberg  laws came into force in  1932.  It certainly did not play a role in his decision to accept the chair of New Testament Studies at Zurich University in Switzerland.  If Kümmel had stayed in Germany, he would have been a staunch supporter of the Weimar Republic and a supporter of the »German Democratic Party«. His appointment in Switzerland meant that he escaped persecution from the Nazis, but his academic colleagues and rivals in the German theological world saw to it that he was prevented from  receiving  the honours and recognition  his work rightly deserved.
Kümmel's academic career was nurtured in the highest echelons of German scholarship, where it led the world in biblical studies. He studied Protestant Theology in Heidelberg, Berlin and Marburg from 1923 to 1928, graduating in Heidelberg.  In the winter semester of 1925/1926, he took part in Rudolf Bultmann's New Testament seminar on the "Anthropology of Paul".  In 1928 Martin Dibelius in Heidelberg  supervised his doctorate with a thesis that was published as a book a year later in expanded form under the title "Romans 7 and the Conversion of Paul".  With this outstanding work, which is still valid today, an important career as a New Testament scholar began.  After the two theological exams and a subsequent study visit to England, Kümmel worked as an assistant to Prof. Hans von Soden in Marburg and in 1932 was appointed Professor for New Testament in Zurich, Swtizerland, avoiding possible later persecution by the Nazi state. 
In the autumn of 1933 Kümmel intervened in the dispute over the introduction of the Aryan paragraph in the German churches which prevented Jewish Christians from employment. He not only signed the New Testament declaration "New Testament and the Racial Question" formulated by the Marburg faculty, which rejected the Aryan paragraph, but at the request of Rudolf Bultmann circulated a letter and asked 70 New Testament students in Europe and America to sign the declaration. He and his Zurich colleague G. Schrenk thus risked that they would never again be appointed to a German professorship, and at the same time they endangered their German citizenship.
Tübingen's New Testament professor Gerhard Kittel ran the "Studiorum Novi Testamenti Societas" (Society for New Testament Studies) in consultation with the Reich Education Ministry and excluded Kümmel from membership in 1938.  "I hope that it will be possible to drop out two particular New Testament scholars, one of whom is a half-Jew and the other a German emigrant and a dedicated Barthian," wrote Kittel in a report to the Reich Ministry of Education in December 1938.  In February 1939 he then reported: "For Switzerland, the specialist representative of Basel (Marxist, emigrant) and one of the two Zurich specialist representatives (half-Jew) was eliminated" (Bormann, 436f.).  Professors Karl Ludwig Schmidt and Werner Georg Kümmel were meant.  Kittel's attempt did not succeed, and Kümmel's name nevertheless appeared on the final invitation list for the planned general assembly in England, which had to be postponed due to the war.  In a somewhat belated reaction Kümmel was elected president of the "Studiorum Novi Testamenti Societas" in 1963/1964.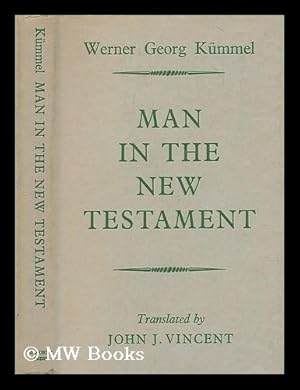 With the beginning of the war, German emigrants became more worried that neutral Switzerland would also be occupied by Germany and exposed to the same persecution.  Kümmel had joined the exile working group "Das Demokratische Deutschland", of which he was temporarily a member.  The German consulate general in Zurich put massive pressure on Kümmel and asked him to volunteer for the German Wehrmacht.  He then asked for his part to tell him what had happened to his mother's sister, who was transported to Theresenstadt in September 1942, where she died after a few months.  He received no answer, but was not able to follow this up.  Kümmel returned to Germany in 1951. Kümmel died July 9, 1995 in Mainz.
Reflection and Prayer. No serious student of the New Testament can be unfamiliar with the contribution of Werner Kümmel to the academic discipline, but few would realise his Jewish background and the danger this posed for not  only his professional career but also his life  and safety. For me as a Jewish disciple of Yeshua illustrates how fragile life is, how often Jewish Christians life in the interstitial space between the two faith communities, and how much they contribute. Kümmel may never have chosen to identify as Jewish, even though it may have been held against him and lead to threats and opposition against him. But his work speaks for itself, leaves its own legacy, and sheds the light of faith and truth on his Messiah Yeshua.
Baruch Attah Adonai Eloheynu Melek Haolam… SheChalak MeChachmato LeYire'av
העולם שחלק מחכמתו ליראיו ה' אלקינו מלך ברוך אתה
Blessed are You, O LORD our God, who has imparted some of his wisdom to those who fear Him.
Sources – https://en.wikipedia.org/wiki/Werner_K%C3%BCmmel
Eberhard Röhm in